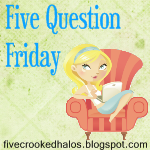 So, I am new to the
5 Question Friday
, but like others thought hey why not I will join in. I have never done this before, but hey if you want head on over to
Mama M's Blog
and copy the questions and then post them on your blog and then link back!
Here's my answers:
1. Would you ever vacation alone?
No, I wouldn't. Vacation to me is being with my family! I work full time so when I take time off, I want to spend it with them. Its also hard because my hubby works at night, so we really don't see each other much! So, definitly can't do it alone.
2. Do you go the speed limit?
Normally I do go the speed limit, because tickets suck. I don't like to speed with the kids in the car. But I would be kidding myself if I didn't tell you that I do speed especially when I am late to work. Isn't that like all the time?? Haha.
3. Why did you start blogging/following blogs?
I started blogging because my new found lover over a year ago was saving money and I had started finding so many tips and what to do. Well, at first it was I was sending emails to my friends to tell them about them, then I was posting them to the mommy group that I am in and finally I said, let me just put it out there. My guilty pleasure is to read other people's blog. I love to read what people have to right, we are all so different and unique and I love that in people's blogs.
4. Where do you shop for yourself?
I DON'T
5. What was the song that you danced your first dance with your spouse to at your wedding...or...what song would you like your first dance to be to?
We didn't have a dance since we got married at a Bed and Breakfast with only my parents and his brother and sister in law there! Our 3 year anniversary is coming up too, February 24th.