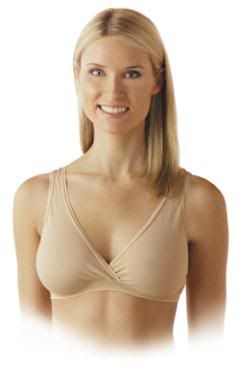 I recently was given the oppurtunity to review
The Medela Sleep Bra
as shown above Provided by Medela. Sorry no personal photos to be shown here. LOL
Here are a few Features and Benefits about the sleep bra.
Luxurious combed cotton and no-tag deisgn ensure comfort against your skin.
Keeps nursing pads in place to avoid leaks.
Draback design for convenient nursing.
As a mom who is nursing and has nursed all of her kids when you are breastfeeding, you just want to be comfortable and make sure that you are not using or doing anything that will put your milk in "danger" of not producing enough. Also with both of my other girls, I never realized that they had anything like a sleep bra, so I had no clue. I just wanted to be comfortable and not have any plugged ducts or get mastisis. Which I have heard that some bras can do this.
This bra is a pullover style with a racerback style which fits nice and snug. I am a 36D and was sent a Medium and it was comfortable and didn't feel too tight. The color is nude, which I liked and it very thin. I feared that it would easily snag or tear however, not at all! It was easy to just draback on my side (like I do at night when feeding Baby B) and she could eat.
It was also great to wear out of the house, however for me I would wear nursing pads only because haha...when I get cold you would know it. So, that to me is not something I wanted to show the world. The great thing about wearing the nursing pads though is knowing that they fit and did not slip out and fit great. I was happy with that. This bra was tagless and I easily get irritated with tags in certain areas and especially at night time, so NO TAGS was nice.
I didn't have any issues with this bra at all, actually I was overall super pleased with its looks, with its fit, with its ease and for a breastfeeding mama to another, you will love this. And by the way Baby B got her milk and honestly as long as this happens, we are good. :)
Washing this bra, I just washed with my other white clothing, I didn't worry about gentle wash or anything like that. However since the fabric was so thin, I didn't put it in the dryer but it did dry quickly. Plus I worried that it might shrink and wouldn't fit me anymore. It washes great and still looks brand new and I wear this every night.
I did search around for the prices of these
Medela Sleep Bras
and overall the cost seems to be in the price range of $20. And Mama's who love to shop at Target, I see that Target even carries these. This is a great price when you want to be comfortable. And while I like to use coupons and try to be frugal I will pay whatever I have to pay for the safety of not losing any milk. I think all you mama's would love this product.
The product in this review was provided to me free of cost for the purpose of conducting this review. All opinions expressed in this review are my own and are not influenced by monetary or other means of compensation.