I truly apologize for no blogpost yesterday, but seriously I was feeling horrible. Actually my oldest is having her First Communion on Sunday, and we are so excited for her, but we had to go and get her dress. I could hardly talk yesterday, but it took all I had just to get out the house and get it. The dress is absolutely beautiful and she is just as gorgeous in it.
Anyway, I digress...don't I always. Its Monday, and I passed out last night with the girls and then woke up at 1AM, feeling horrible! I couldn't breath.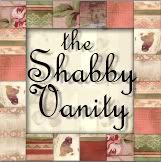 As you can see, I am getting a totally makeover on my blog. I am so excited. Have you guys checked out
The Shabby Vanity
? Well you must...she is doing an amazing job on my blog and I am so excited and can't wait to see the total outcome of it. Plus right now,
The Shabby Vanity
is offer a special...
For April only...they will design (up to two elements) of your blog for you for free! What you want, where you want it! So that means hurry and fill out an order by April 31st 12pm MST to recieve your designs at no cost to you!
Also do me a favor,
go over to her blog
and follow her, I promise you something good will be coming up soon!