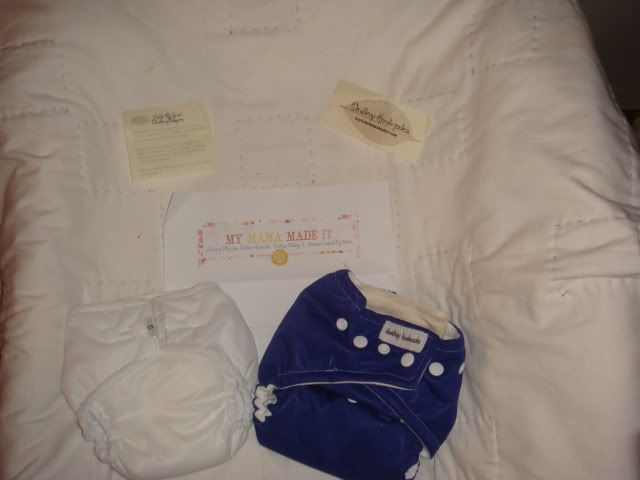 Recently I was given the opportunity to review Christine's diapers at
Dewdrop Handmades
. She is naturally inspired and her inspiration is toward making cloth diapers, nursing necessities, baby wraps and boutique clothing & accessories.
WHAT:
Christine from Dewdrop Handmades sent me a
Dew It All
cloth diaper size small and a
Watch Me Grow Pocket Diaper
, and I love the name instead of calling it a One Size diaper it is called a Watch me Grow.
LOOK: Gorgeous. I don't think there is much else to mention because were super happy with her diapers.
FIT AND HOW: This Grow with me Diaper fits an 8 to 28 lb baby and Baby B is 15 lbs and this diaper was an amazing fit on her. It has an adjustable rise, waist and leg openings you will be able to find the perfect fit for your baby through all stages of cloth diapering. Baby B as you see on her, we had it up to the 3rd setting and it was a great fit for her.The back inside opening has a lapped anterior opening with either an inner layer of:
--Diaper Maker Lining Jersey
--Alova Suede
--Cotton Velour
The diaper came with a ROBIN tri-fold insert, this insert features 6 layers of french terry and 3 layers of cotton velour. When unfolded it is 1 layer cotton velour and 2 layers of bamboo french terry making it much more efficient to wash and dry. Drying the diaper was quick and easy and didn't take more than one load to dry.
As for wearing the diaper at night, with most pocket diapers I would recommend placing an additional insert in the pocket. During the day there are not any issues with just the trifold insert, however at night time I recommend placing an insert wrapped around the tri-fold. This still fit her great and had a nice trim fit and wasn't too bulky on Baby B.
COST:
The
Watch Me Grow Cloth Diaper
you can get at a low cost of $16.00 and the
Dew It All
at a low cost of $14.00, which is a great price for the "Watch Me Grow" and a diaper that will fit your baby and/or toddler. The tri-fold insert comes with the "Watch Me Grow" diapers, so you are not paying extra for the inserts.
OTHER PRODUCTS: Dewdrops also handmakes other beautifiul products such as nursing pads, wet bags, cloth wipes and many other products. Check her out because I am sure you will get addicted like I did.
TESTED AND APPROVED? Mommy and Daddy tested and approved!! By the way, we even tried the diaper on my 2.5 year old and not only was this her favorite because it is PURPLE, but it fit her great.
VISIT:
GIVEAWAY:
Dewdrop Handmades
would like to give one of my lucky readers a "Watch Me Grow" diaper with insert in one of the following colors: white, purple, lilac, turqoise, light blue, sky blue, and navy
MANDATORY:

In order to participate in this giveaway, you must be following my blog publicly and then visit Dewdrop Handmades, and look around her shop and see if there is anything other than cloth diapers that you would like. If you do, please make sure you comment here about them. Make sure your comment includes your email address, this is important.
ADDITIONAL ENTRIES
1. Place her button on your blog which is below and because this is new button, you will get 3 entries for this. Please leave the URL, where you placed it and comment three times with email addy.
2. Become a facebook fan of
Coupon Mommy of 2 ... Now 3
and and come back here and comment for 1 entry
3. Comment about this giveaway on your blog or other forums and come back and comment with the URL for 1 entry.
4. Follow me on
Twitter
and tweet about this giveaway and then come back here with the URL of your Tweet for 1 entry. Please make sure your tweet has #clothdiapers, @couponmomof2, and the url of the giveaway in your tweet
5. Follow my Networked Blogs on the right side and come back here and comment for 1 entry.
6. Make a purchase from Handmade Dewdrops and earn 5 entries for your purchases and make a comment here for each entry up to 5.
I have extra entries for you!!!
1 entry for
Mymamamadeit twitter
and following her. = 1 entry
With this giveaway, there are 13 chances to win this giveaway and you must come back and comment for each of them if you want to be entered 8 times and you can enter up to Monday, March 1st until 11:59PM EST. I will be checking to make sure that each requirement is done as well as the purchase and you will want to make sure you do the mandatory entry to qualify for this giveaway. The winner will be drawn via random.org and will then have 48 hours to respond by email or another winner will be drawn. Once the winner has responded I will forward your information to Chrisine at Dewdrop Handmades to send product.
The product in this review was provided to me free of cost for the purpose of conducting this review. All opinions expressed in this review are my own and are not influenced by monetary or other means of compensation

.
Thank you Christine , Good Luck to my readers and have fun!!